India Pak
No
with
trust deficit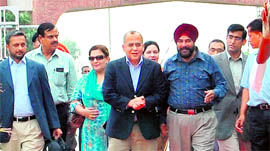 Pakistan Foreign Secretary Salman Bashir (fourth from left) crosses over to India at the Attari checkpost on Monday. Photo: Vishal Kumar

Ahead of the talks between the foreign ministers of the two countries, Pakistan tonight said it desired to give a political push to the dialogue process with India. "There is no trust deficit between the top political leaderships of the two countries…things are moving in the right direction," Pakistan Foreign Secretary Salman Bashir said on his arrival here for talks with Foreign Secretary Nirupama Rao tomorrow.
He said the two sides had covered a lot of ground during the dialogue process that was resumed in February and hoped to make some announcements after the talks between the foreign ministers on Wednesday.
The two top diplomats are expected to firm up the details of cross-Line of Control (LoC) confidence building measures (CBMs) to be announced after talks between External Affairs Minister S M Krishna and his Pakistani counterpart Hina Rabbani Khar on Wednesday.
Khar, Pakistan's first woman Foreign Minister and the youngest to occupy the post, arrives in New Delhi tomorrow.
Rao and Bashir, who will be meeting a month after their talks in Islamabad, are expected to review the entire gamut of bilateral issues and firm up deliverables that will be unveiled by the foreign ministers.
Increasing the frequency of Srinagar-Muzaffarabad and Poonch-Rawalakot bus services and the number of trading days across the LoC and opening more trading points are expected to be unveiled after the talks between the foreign ministers.
Sources said the two ministers would also discuss measures to liberalise the visa regime though there may not be any immediate announcement in this regard.
Ahead of the talks, India made it clear that there was no dilution in its stand that the masterminds of the 26/11 Mumbai terror attacks must be speedily brought to justice by Pakistan.
TNS adds from Amritsar: Kashmir would be part of talks between India and Pakistan scheduled to take place in New Delhi on Wednesday, said Pak Foreign Secretary Salman Bashir after crossing over to India via the Wagah-Attari land route on Monday. On the 13/7 Mumbai blasts, he said: "We understand the pain and suffering of the blast victims. Every country today is facing the scourge of terrorism and the only way forward is to cooperate with one another. We have been extending help in the fight against terror across the world and will provide assistance to India in probing Mumbai blasts."