2-year-old rescued 21 hours after China train crash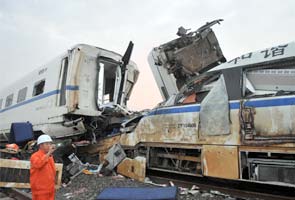 It cited an unnamed firefighter in its report.
Wenzhou, China: A toddler was rescued around 21 hours after a crash involving two high-speed trains in eastern China killed at least 35 people and injured more than 190 others, state media reported on Sunday.

Xinhua news agency said the unconscious child was found early on Sunday evening while rescuers were clearing one of the train cars.

It cited an unnamed firefighter in its report.

The China Daily newspaper said on Monday that the child was a 2-year-old girl, Xiang Weiyi, who suffered no apparent injuries after being trapped in the last carriage of the train, which had stalled and was hit from behind by the second train.
The newspaper quoted the girl's uncle as saying she had been travelling with her parents and that he did not know if they had survived.
A bullet train was travelling south from the Zhejiang provincial capital of Hangzhou on Saturday evening when it lost power in a lightning strike and stalled, before being hit from behind by the second train in Wenzhou city.
Families are anxiously awaiting news of loved ones.
The crash the first derailment on China's high-speed rail network since the country launched bullet trains, with a top speed of 155 miles (250 kilometers) per hour in 2007, the China Daily reported.